I'm mega proud of my student Fabian Santos. He's done something most film school students never do: he directed his first feature.
The movie was shot on location in his native Brazil and is titled "Na Frieza Do Seu Olhar". It's in Portugese, and English subtitles are forthcoming. Here is the trailer:
And here is the movie poster: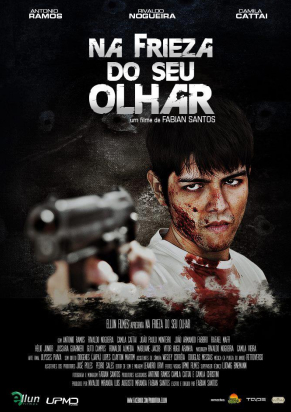 What Doors Does This Project Open for Fabian?
Unlike a typical film school alum, who graduates with a tiny short film reel and a mountain of debt, Fabian already has a valuable commodity that he can sell directly to an audience. Yes, even in South America, Fabian can position his movie right next to movies being shot in the States and earn money through digital download.
It's also the first notch on his belt as a Feature Director, demonstrating his ability to tell a 90 minute plus story.
And the beauty of a First Feature is that it's his First. Nobody expects a first feature to be a masterpiece. It's the beginning of a progression that will span his career. His next movie will be even better. And he can use this first feature as leverage as he raises funds for future projects. This is the right "ladder" to climb if you are serious about a Directing career.
Fabian's Premiere Party in August
In a couple of month's, the film will have a local premiere in Fabian's home town. I'll be sure to blog about it, and it's going to be great. Fabian already has an active, rabidly enthusiastic fan base from which to build a larger base and leverage his value as a director. It's also going to be a hell of a lot of fun.
Fabian's Testimonial
Fabian was kind enough to take a minute and speak about his thoughts about me and my courses.
To learn how to make your first feature, get it to an audience, and be taken seriously as a Director, check out filmschoolsolution.com.