Learn to Direct for a Living & Why Film Schools Fail
Since 2010, Film School Secrets has been helping aspiring filmmakers get their movies made and launch their careers. We provide no bs, practical advice and also reveal hard truths about the film industry that you won't find anywhere else. If you've found this site, chances are you dream of Directing your own movie. Sure, you probably also like editing, shooting, and other parts of filmmaking… but you REALLY want to make your own film and see it shown in front of an audience. That's all we do here: help aspiring filmmakers like you become directors.  Unfortunately, less than 1% of film school graduates even direct their own full length movie; and few end up working in the film industry.  That's a fact you won't hear about anywhere else – but here, on the ground in LA, it's reality.
Why a Film School Degree is a Joke in the Industry
Those aren't our words – they are from a New York Times article written in 2011. It's the first time the media has every revealed the truth about the film business. Film School graduates, even from USC, NYU, and AFI, do not graduate into some inner circle of film industry production. So what's happened? Thousands of naive students get into school, pay a small fortune, and enter an industry without the practical skills to reach their goals. The best a film school graduate can hope for is a minimum wage job getting coffee for a working director, who likely didn't go to film school.  This reality is illustrated humorously by Chris Rock in the Kevin Smith film "Jay and Silent Bob Strike Back":
Are You Serious About Directing Movies for a Living?
At Film School Secrets, you will not get a framed degree or certificate or grades. Instead, we provide students with actionable, no nonsense training to help you leap frog past film students and produce results now , make feature films, and actually make money from their movies.
In this Free Video Presentation conducted by 17 Year Industry Veteran & NYU Grad Seth Hymes, you will learn things no film school student knows about, including: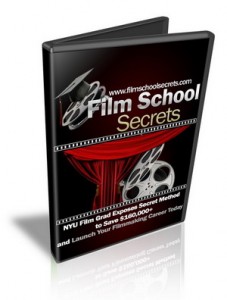 How Film Schools Deceive Aspiring Filmmakers & How to Avoid Getting Fooled
The Step by Step Path to Directing Nobody Outside the Industry Talks About
Why Everything You've Heard About "Connections" Is Wrong
Why Living Outside of LA is Actually Better When Starting Your Career
Why Film Festivals Are a Waste of Time
The Only Course That Prepares Students to Direct & Market Full Length Films
Much More…
To Get Access, simply enter your name and email below. You'll also be signed up to receive our free newletter with more insights on starting your film career and filmmaking: