I opened my email early this morning to find this incredible job opportunity from NYU Film School, off their Career ListServe:
As you can see, these are two incredible chances to be either the assistant to the head of some alternative television department OR…  an assistant office manager!
Simply fantastic. Who knows if you would ever get these kind of career jump starting opportunities if you did not attend a $42,000 a year film school. You simply must go.
But don't worry if both of these positions get filled… there are literally tens more available on the College Central website, and they are equally exciting. In addition to a variety of assistant positions there are usually many, many administrative positions such as office manager, clerk, assistant, receptionist, etc.
Kind of hard to believe that a top tier university could yield such sad job opps. And you might be inclined to think I am exaggerating. So here's a list of a few more job opps listed under Tisch for people with a major in Film & TV. By the way, if you list "Bachelor's" under "Degree Required" you get about 4 results total, so I had to take that setting off.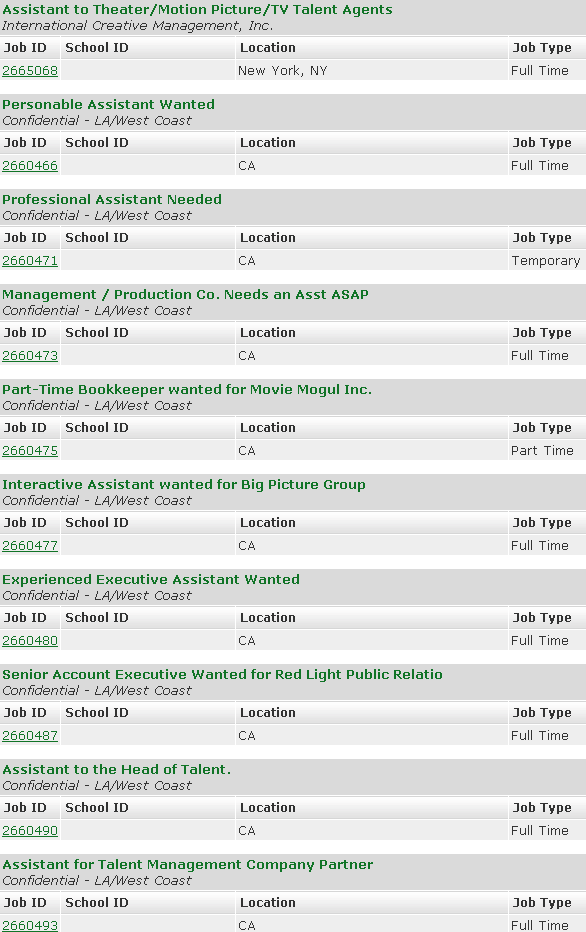 This is really great, since I know that everyone who goes to film school dreams of someday graduating and becoming a bookkeeper, or an assistant to a talent agent.. getting coffee, picking up dry cleaning, etc.
Remember, this is what an assistant job looks like:
It does beg a question though. Where are all the real production jobs?
Answer: not on any list serves or websites run by the school. All the production jobs are out there in the real world. And you don't need a degree to get them. But you do need to take action and just get on real film sets in order to get into that community of people who are actually shooting stuff and not assisting agents, managers, lawyers, etc.
To learn how to get on real film sets and start networking with real filmmakers, check out Film School Secrets. Many of our students have gotten on real productions within days of taking the course just by following the simple instructions in mod 2. Of course, people who take Film School Secrets do not have an advantage when it comes to getting an assistant position like the ones mentioned above, and that is a shame.
Of course there is one position I didn't mention from the Tisch opportunity cornucopia. It's a fantastic job:
Yes, a Film School Instructor job. At Rutgers, where out of state tuition is $11,000 a semester. (That's almost half the price of NYU!) You will feel extremely rewarded helping young people spend a lot of money to eventually be eligible to get one of these assisting jobs.
Or you can take Film School Secrets and learn how to start making your own movies, and marketing them, today!