Learn What They Don't Teach in Film Schools
To realistically start a directing career, you don't just apply to film school, get accepted, make some shorts, and wait for the offers to come rolling in. You have to be proactive, smart, and think different than 99% of filmmakers. And that starts with understanding the difference between "Above the Line and "Below the Line", and a whole lot more…
The Right Approach – Understanding the Business
Most people approach a film career without a clear understanding of what they are doing or how to realistically get there. And that's why so many film students fail. It's like trying to open a Restaurant but knowing nothing about food.On top of the fact that there is so much conflicting and inaccurate information on the web about the film industry, it can be very confusing.
Whether you want to Direct, Produce, DP, Edit, or Write… you need to have a clear overview of the business you want to work in. 
Let's start by looking at an Abridged Sample Production budget. Did you know most people, especially film students, have never even seen a budget sheet like this?
But inside this simple spreadsheet lies the key to your film career.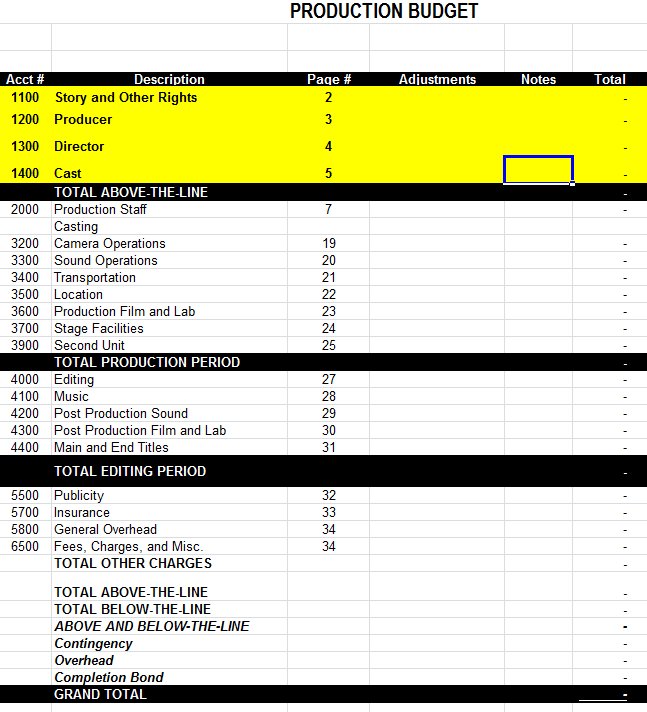 The Truth About "A Foot in the Door" & "The Ladder"
You may have heard that to work in the film business it's "all about who know", you need to "get a foot in the door", or "pay your dues" or "climb the ladder."
Well, that depends on what you want to do. Do you want to Direct, Producer, or Writer?
Or do you want to Get Coffee and Support People Who Do These Things?
The Budget Sheet is simply a summary of all the expenses of any Production; Feature Film Commercial, Documentary, etc. It's also provides a window into the hierarchy and organization of a Film Production. Kind of like seeing how a Business is Organized, from the CEO down to the Data Entry Clerk. Or how a Government is organized, from the President of a country down to the Mayor of a city.
You may notice that at the very Top of the sheet are the familiar positions you may aspire to: Producer, Director, Writer (the Story line). Then, you'll see a big dark line separating the positions below these. We call everything above that big dark line "above the line", and everything below "below the line".
And here's where a major confusion takes place. There is a huge difference between the two types of positions.
Above the Line Positions = Creative and No Mobility
Director – Manages Set and Maintains Artistic Vision
Producer – Makes Production Happen, Helps Director
Writer – Creates Original Vision of Production (Not active on Set)
There is Little to No Mobility in these positions. Meaning, you can't "get promoted" to becoming a Director, a Producer, or the Writer of a movie.
That's also why people like Quentin Tarantino, Wes Craven, James Cameron, Kevin Smith, Robert Rodriguez, Christopher Nolan, Steven Soderberg, Oren Peli, Billy Bob Thornton, and dozens of other Directors were able to start their careers working as Directors.
They just Directed a movie. Period.
You never hear of someone "working their way" into a position of Producing or Directing. Many film students get assisting positions, hoping to somehow launch their Directing career, but that never happens. It's like getting hired as a Receptionist at Yahoo, hoping to become CEO.
Below the Line Positions = Technical With Mobility
Below the line positions, however, offer many opportunities for advancement and improvement. Having a connection or knowing someone can definitely help you out. Some below the line positions include:
DP (Camera Department) – Shoots the Movie (Technical & Creative); Support the Director
Gaffer – Supports the DP, Head of Lighting Dept.
Grip – Supports the DP and Gaffer, Lighting and Camera Dept.
1st Assistant Camera – support the DP
2nd Assistant Camera – supports 1st Assistant Camera
Sound Recordist/Mixer – Records Sound
Boom Operator – Supports Sound Department, Sound Recordist
Editor – Edit films once Shot
Assistant Editor – Assists Editor
Script Supervisor – Maintains Continuity
Line Producer – Human Resources (handles "lines" on Budget Sheet)
Assistant Director – Assists Director, Runs and Organizes Set
Production Manager – Runs Production, works with AD to run things smoothly
Production Assistant – Helps out with Anything, reports to Production Manager
Notice the hierarchy in the Below the line positions. A 2st AC can move up to a 1st AC. A Production Assistant can move up to becoming a Production Manager.
But look at the nature of these positions. They are Technical and Organizational. They are Support positions for the Above the Line positions. It's like being hired as a Salesman at a company and working your way up to Head of Sales.
These positions are absolutely necessary, and the people who do them are indispensible to a film production. But…
Don't Work Below the Line if You Want to Work Above!
There is no mobility between Below and Above the line positions! This is why its so tragic that film students are advised to get "Internships" and PA gigs out of film school. These Below the Line positions can only lead to another Below the line position.
That's why, out of my colleagues who went to NYU Film School, only a small percentage are still working in the industry. But none are Directing. Most work in Administrative or Support positions (below the line); Production Managers, Post Production Technicians, and people who work in Advertising.
Below the Line positions are essential, and filled with fantastic, dynamic people who make the film industry hum. However, if you want to work above the line, there's an entirely different approach. To learn about starting out from Above the Line, check out our webinar called "The Direct Path to a Directing Career" by clicking here.