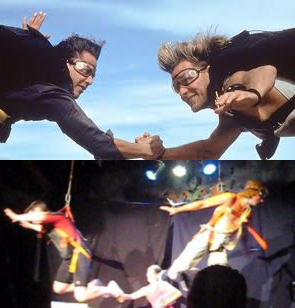 Late last year I had the pleasure of checking out a hilarious play called "Point Break Live". It was, you guessed it, based on the movie "Point Break"  starring Keanu Reeves, Gary Busey, and the late great Patrick Swayze.
The play was a blast: literally. I had to buy a plastic rain poncho to avoid getting sprayed by the water they used on stage to simulate the ocean; the bank robbers all squirted the audience with fake blood. It was awesome! They even pick a member of the audience to play the main role. The night we went, they picked a British guy to play Johnny Utah, and that made it even more funny.
The play took some of the movies most memorable and cheesiest lines and played them up in really creative ways. They even had a cue card girl feeding lines to the guy playing Johnny. And they had a woman playing Katherine Bigelow, who would occasionally step in and direct the new actor.
Here's some highlights of the evening (apologies for the shaky video):
Unfortunately, the play has been retired. But thankfully, it's been replaced with a new play "Terminator Too: Judgment Play", which will apparently rehash the entire plot of this classic action movie. And a member of the audience gets picked to play "The Terminator". Here's a promo:
I never got into "Rocky Horror" but I now definitely see the appeal of movies that inspire audience participation. As far as I know, these plays are only being done in LA… but let yourself be inspired. Maybe you can think of a cheesy 80s or 90s movie and turn it into a wild play of your own!
All these guys needed was a stage, some squirt guns, a bunch of crazy actors and their imagination and they put together something really, really fun. They didn't have permission and just came up with the idea out of nowhere. Who says you can't do the same thing?
You can check out the new play by clicking here or going directly to:
http://terminatortoo.com/terminatortoo/HOME.html