Even though the cost of production equipment has plummeted over 100% in the past 10 years, the number of film schools in the same period of time has nearly tripled.
With Federal Student Aid still readily available, it's become quite lucrative for schools to open their doors, cram 30 kids into a classroom at $30,000 a head, and teach them rudimentary filmmaking skills with used equipment.
However, the competition for students has become fierce, with new schools popping up every day. As such, the marketing department of both new and old schools is on overdrive to make their program seem the wisest investment for incoming students. But at the end of the day, all of these supposed bonuses are just gimmicks compared to what is really required to work in the film business.
The newest trend is to include very low cost digital filmmaking equipment as part of a student's tuition. This is theoretically a great idea. After all, it's 2013. Students at NYU are still paying $46,000 a year to use Panasonic DVX 100 cameras that cost $85 a day to rent. Students at the Art Institutes pay $90,000 for a 3 year program where they borrow consumer level DSLR cameras that can be purchased for $1,000 to $1,500.
So it's somewhat refreshing to see a couple of schools stepping up and offering students the chance to OWN their a camera of their own rather than sharing equipment with 100 other students. The digital era as made this equipment affordable, so let's take advantage.
It sounds like a good idea… but what about the execution?
1. $28,638 for an $800 Camera?
Santa Fe University, a relatively new school, offers students in their film program their own Canon t4i digital camera. This is a great camera; if lit properly its images rival much more expensive cameras on the market. However, the camera costs $700 to buy on Amazon and you still get to "keep it forever", as the schools ad copy suggests. The film program at Santa Fe University is $28,836 without factoring in production costs.
Does that make sense? Just buy the darn camera on your own.
2. Video Symphony: $20,000 for Netflix?
Video Symphony's year long New Media program has a $21,000 price tag. They also provide an entry level DSLR Video camera to students with 2 additional lenses, for an acknowledged $1,000 value. But the funniest thing is part of their marketing material, in which they highlight one of the many advantages of attending their program:

That one is my favorite. Yes, I don't know how I would ever manage to get, much less afford, my own Netflix subscription without enrolling in an advanced film program.
Actually this highlights the main reason why film school certification is silly. In the old days you really needed a school to watch reel to reel movies. Today, not so much.
3. Full Sail: $65,000 for a $249 Lighting Kit
Full Sail is my favorite. Their Online Digital Cinematography Degree (dear God, please do not waste your life and money on this) costs a mere $70,000 for 2 years. I don't know what the heck you do in the first year, because its only in the second year that you get your hands on some entry level production equipment.
And I do mean entry level. A laptop, some basic software. But my favorite is the lighting kit that costs $249 to buy at B&H: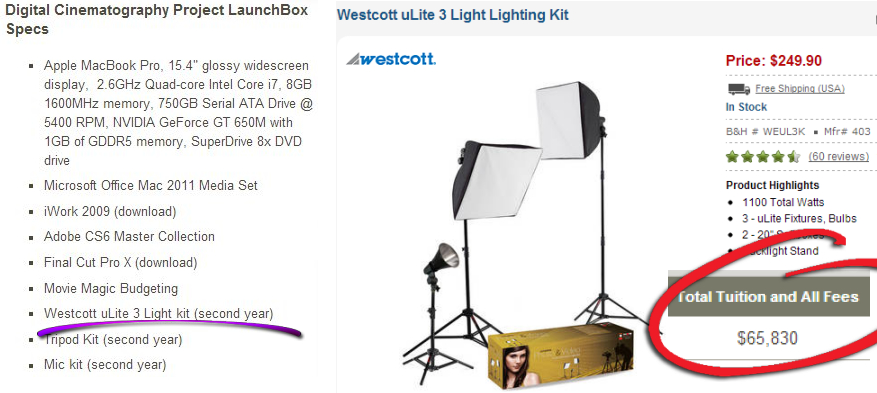 If you want to invest your life savings to get basic filmmaking instruction and equipment you could have bought for a fraction of the cost, then by all means apply to one of these film schools. But if  you're serious about starting a directing career the smart way, then go to filmschoolsolution.com.